CYBERPANEL
The Ultimate Web Hosting Control Panel
Powered by LiteSpeed, CyberPanel empowers users to perform tasks in a faster, more secure and efficient way.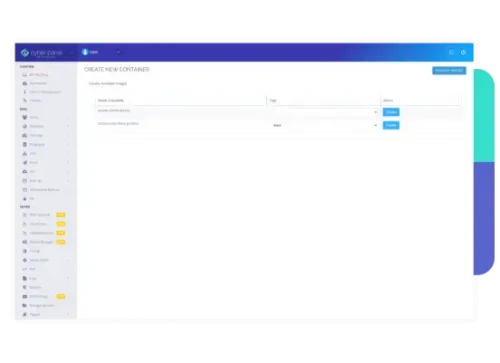 WordPress Staging
Avoid unnecessary risks associated with testing on your live site. Experiment, test and change things on staging before pushing it live.
Intuitive Setup
Server management is easy and effortless. By utilizing OpenLiteSpeed for the webserver, you have access to all the LiteSpeed features.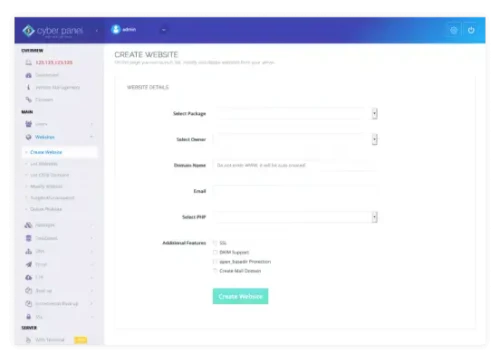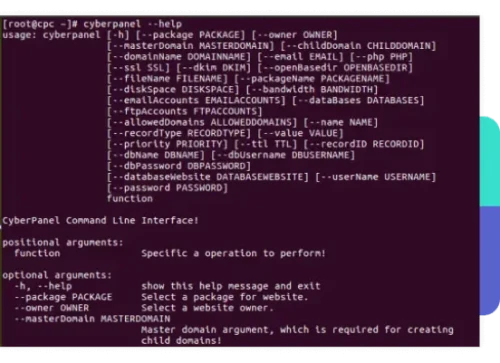 Web Based Terminal & Command Line Interface
For those that like to work in a terminal, the CyberPanel affords you the luxury of a command line interface. That allows you to replicate the work you do in the control panel via CLI. With Web Based Terminal, you can access your VPS SSH server and perform tasks from your browser with ease.
Docker Manager
Docker manager simplifies Docker Container and image management. Search and pull images from Docker Hub or create Containers from available/pulled images in a few clicks.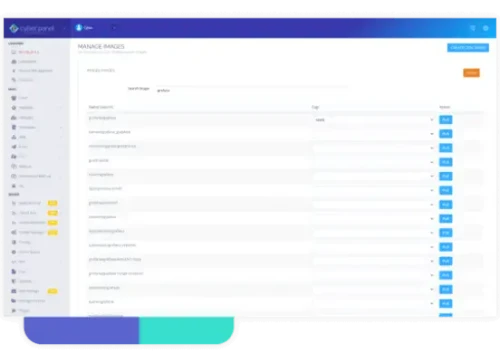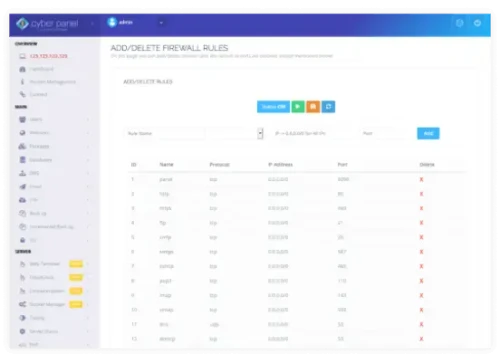 Embedded Security
CyberPanel comes with SpamAssassin to stop email spam and a default FirewallD installation for a heightened sense of protection and security.
Cyberpanel configurations
Virtuell Cyberpanel 20GB

CPU
1
DISk
20GB
IPV4
1
IPV6
1
MEMORY
1GB
Datatransfer
10TB/1GBIT
Cyberpanel installed
Yes
Virtuell Cyberpanel 40GB

CPU
2
DISK
40GB
IPV4
1
IPV6
1
MEMORY
2GB
Datatransfer
10TB/1GBIT
Cyberpanel installed
Yes
Virtuell Cyberpanel 100GB

CPU
4
DISK
100GB
IPV4
1
IPV6
1
MEMORY
4GB
Datatransfer
10TB/1GBIT
Cyberpanel installed
Yes
Virtuell Cyberpanel 200GB

CPU
6
DISK
200GB
IPV4
1
IPV6
1
MEMORY
6GB
Datatransfer
10TB/1GBIT
Cyberpanel installed
Yes
Frequently asked questions
CyberPanel is a web hosting control panel powered by OpenLiteSpeed, with a lineup of notable features such as auto-backups, auto-SSL, FTP server, PHP management and more. You can easily convert your webserver from OpenLiteSpeed to LiteSpeed only with one click.
With CyberPanel you can have unlimited free Let's Encrypt SSL. Here's how you install it.
Log in to CyberPanel
Click "Websites" from the main menu
Click List Websites
Your website's main information will show up
Click on the "Issue SSL" link
In an era where web hosting has become more accessible and subsequently, more competitive as a product, CyberPanel has managed to stand out from competition in various ways.

Firstly, let's talk about its usability. From installation, to website management, its interface is considered to be one of its strongest features against competition. Installation is a matter of a single command and navigating the panel is just as easy due to its minimal, clean design.

Then, there's the features lineup that makes the panel rise above its counterparts. For instance, the fact that OpenLiteSpeed/LiteSpeed is embedded into the core offering means that you immediately get a faster website, automatic website optimisation, and effective security protection. In the panel itself, you can do one-click upgrade to LiteSpeed if you deem necessary.

Along with that comes a user-favourite, the LSCache module. With that, users can easily enable the LSCache plugins on the most popular CMSs such as WordPress, Joomla, and Magento for automatic optimisation of the website, built-in page caching and speed acceleration.

Last but not least, comes security. With malicious cyberattacks becoming more prevalent by the day, it's essential to know that any product you use comes with built-in security protocols. Fortunately, CyberPanel is packed with security safeguards. For starters, LiteSpeed's Web Application Firewall (WAF) is considered to be top in its class.

Furthermore, OpenLiteSpeed/LiteSpeed is bulletproof to common PHP and HTTP threats, meaning that your website is safe. When you also add the fact that SSL Certificates can be added in a few clicks to all your websites, you realize that you have an all-around protection against cyber-threats.
Once again, the easy-to-use interface comes into play to show why this web hosting control panel is considered amongst the best. Enabling a multisite network is easy and intuitive. Here is a dedicated resource but also the guide provided by WordPress.